Become a Trauma Sensitive, MBSR Based, Mindful and Meditative Arts Facilitator and Coach

A mindful and meditative expressive arts facilitator is someone who leads mindfulness and meditative practices, combining them with art making that creates a sense of mindfulness or moving meditation. The foundations of this online Truma Sensitive, MBSR Based Mindful and Meditative Arts Facilitator and Coach Certification Program, includes 250 hrs of Trauma-informed Expressive Arts and Mindfulness practices form a certified mindfulness teacher, licensed art teacher and therapist and clinical trauma professional who possesses extensive work in mindful and meditative art, curriculum design, therapeutic art, expressive arts therapy and facilitation. Facilitators can work with small or large groups and 1:1. With coaching training, it enhances your ability to coach your clients into even deeper levels of connecting with themselves.  
MBSR Based Expressive Arts embody visual art, music, performing arts, narrative art, dance and film and the process takes you through a format for running groups that incorporates a variety of methods of mindfulness based on Mindfulness Based Stress Reduction principles, meditation and breathwork. Courses are expressive arts based incorporating music, poetry, film, drama, dance, etc. The program explores how to facilitate groups in workshops of self discovery, intuitive processes and well as meditative and mindfulness based art making. Art has it's own language and speaks volumes in that language when words cannot be found. Including the expressive arts of writing, movement and music deepen the practice. This program has focused strongly on expressive art, but also includes instruction on how to use writing, music and movement with it.


It is process oriented, meaning it is expressive, intuitive and allows more on the process involved in making the art than the end product. This is expressive, intuitive artmaking.
You will be taught how to make your mindful and meditative art practices trauma sensitive, the basic fundamentals of understanding how trauma impacts the brain, core elements of the ACE study, it's impact on the body, be introduced to historical and intergenerational trauma and learn the therapeutic benefit of a trauma sensitive mindful and meditative arts practice.
We are the only MBSR Based Expressive Arts Facilitator and Coaching program accredited by 3 International accrediting bodies and have been awarded the designation from the International Mindful and Meditative Art Accreditation Association as a Highly Qualified Program. While this program does not certify your as an official MBSR Instructor (a full year program at UCLA, UMASS and other institutions), it does certify you as a T.I. MBSR Based Mindful and Meditative Arts Facilitator and Coach and you are eligible for additional credentialing as a Mindfulness Teacher or Coach through IMMA and CTAA as well a specific credentials through IMMAAA.
Mindful Arts Facilitators might be intuitive/expressive artists, counselors, academics, psychologists, social workers, teachers, nurses, yogi's, mindfulness teachers and practitioners, wellness coaches, youth group leaders and other helping professionals, such as non-profit workers and volunteers. 

Some facilitators of workshops have a knack for just knowing how to support people who are in their workshops. Others have never been in front of individuals in a workshop setting before, leading a workshop and need guidance. Some come to this work as intuitive healers and wise souls. Either way, if you have been drawn here, it is for a reason and we hope your path opens you to the abundance and jewels of the universe. You can even just go through the training to learn new things for yourself! 

No art experience is required. No degree is required.  
This is not artmaking for a product to sell, to look good or to go on a wall. It can of course, but the entire purpose is using art to connect to your inner self, your soul, the universe, God, Creator. To honor the energy that runs through us and around us. To learn to listen to our inner self, develop our intuition and to learn to play and let go. Creating together on individual and collective art projects connect individuals coming together in community.

Complete the content at your own pace. Complete the practice logs, the written workshop lesson plans and the facilitation practices as well as the other core courses for this certification and you will be ready to lead your own workshops, consult with individual clients or start your own mindful art business. This program teaches you to facilitate trauma informed, MBSR based mindful arts sessions which can also enhance clinical practice for all types of counselors and mental health workers and is taught by a mental health clinician and educator of over 30 years.
The program is accredited through the Complementary Therapists Accreditation Association (Mindful and Meditative Art Facilitator and Coach designation) the International Mindfulness and Meditation Alliance (as a Meditation or Mindfulness Teacher) and the International Mindfulness and Meditative Art Accreditation Association. We provide quality instruction and the necessary training to gain the CIMAP, CIMAF/CIMAT, RMACP or RMAT designations for all our graduates. Graduates of the program are waived the initial application fee for their designation with application and a signed code of ethics. Renewal fees are required to be paid by the student. Learn about IMMAAA Accreditation and Credentialing here.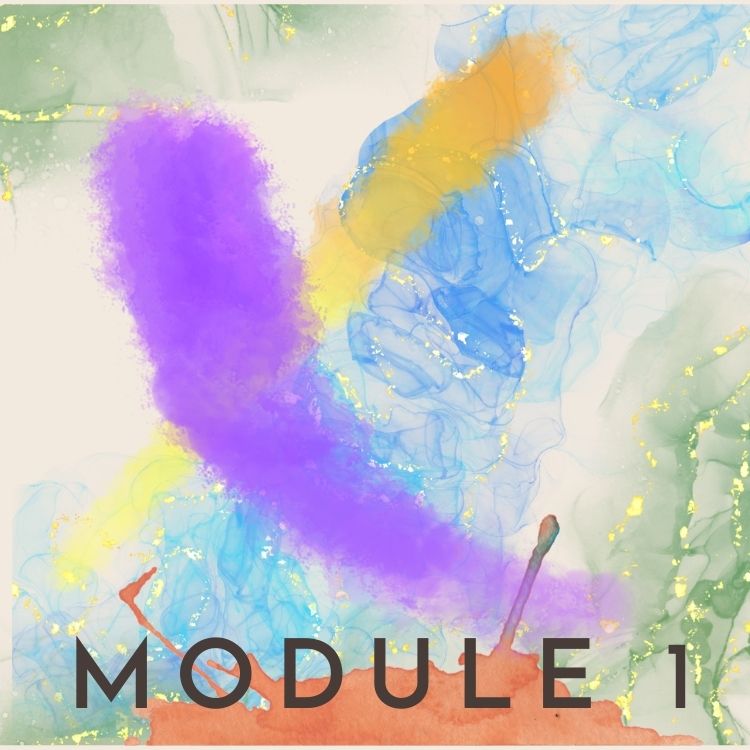 Mindfulness Education and Development
`13 Lessons
9 Attitudes
Foundations
Mindfulness Elements and Processes
Practice Development Through Art

Mindful and Meditative Art Theory, History and Practice
13 Lessons
History & Cultures
Developing a Practice
Mindful Movement
Art Practices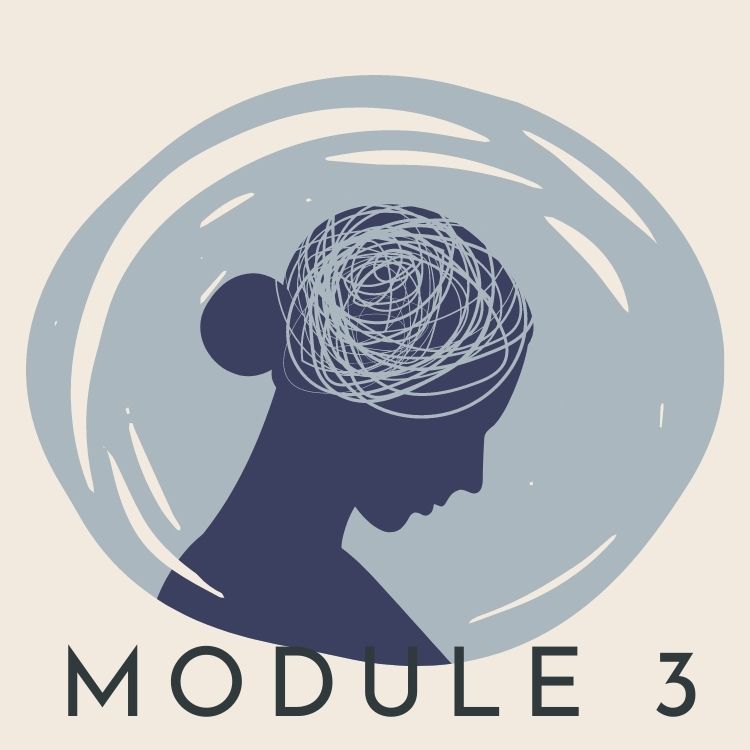 Trauma Sensitive Mindfulness
13 Lessons
Trauma Education
Trauma Sensitive Mindfulness Principles and Practices
Mindful Expressive Arts Practices Navigating Trauma Responses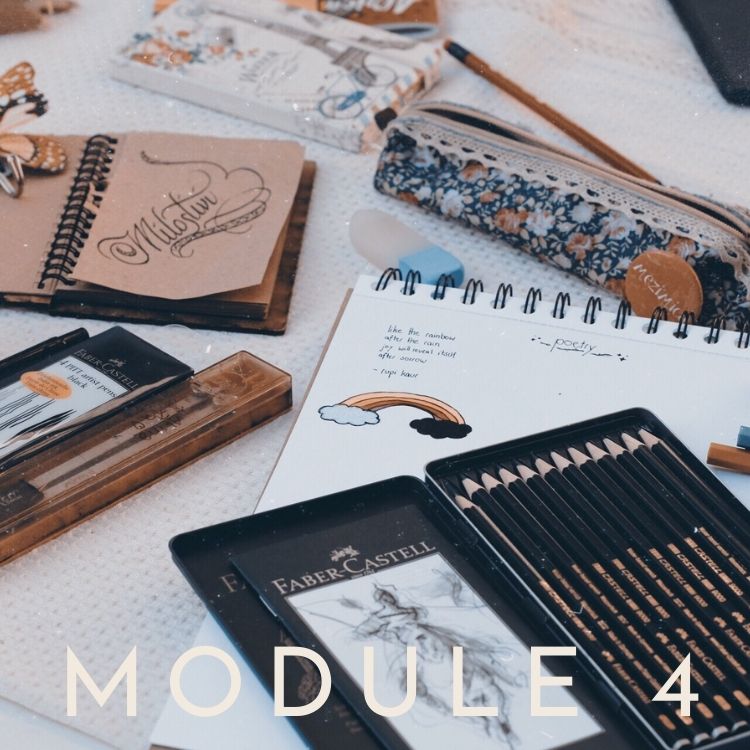 Mindful Drawing Practices
10 Lessons and Lesson Plan Development
8 Different Mindful Drawing Methods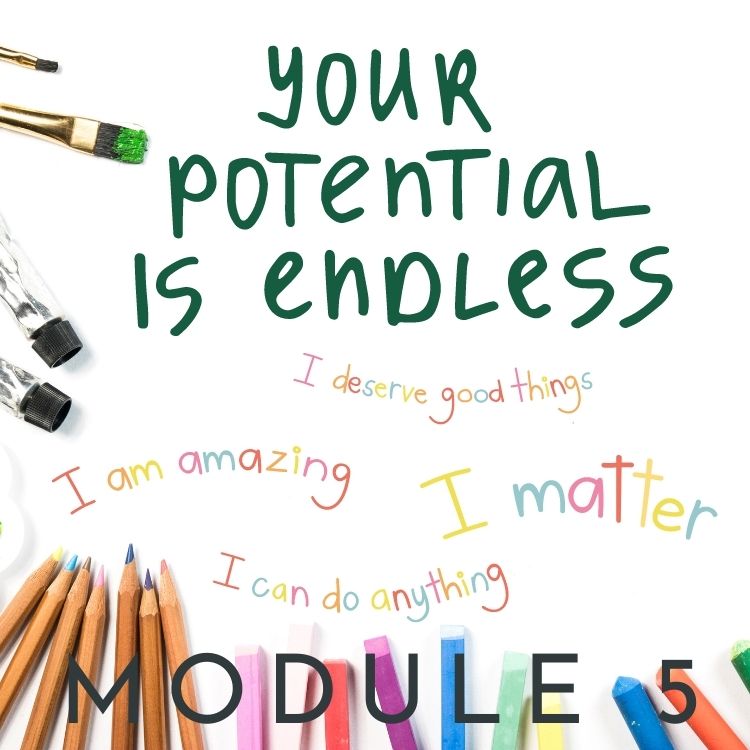 Mindful Affirmation Art

15 Lessons and Lesson Plan Development
12 Affirmation and Gratitude Lessons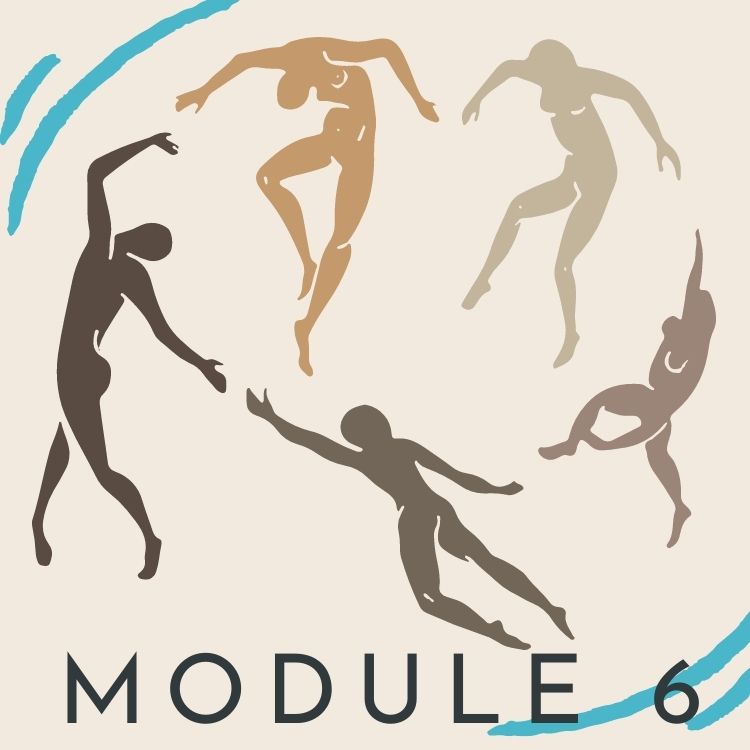 Mindful Movement and Intuitive Art Making
12 Lessons and Lesson Plan Development
Flow States
Intuitive Painting
Color and Play
Printing
Collage
Written Expression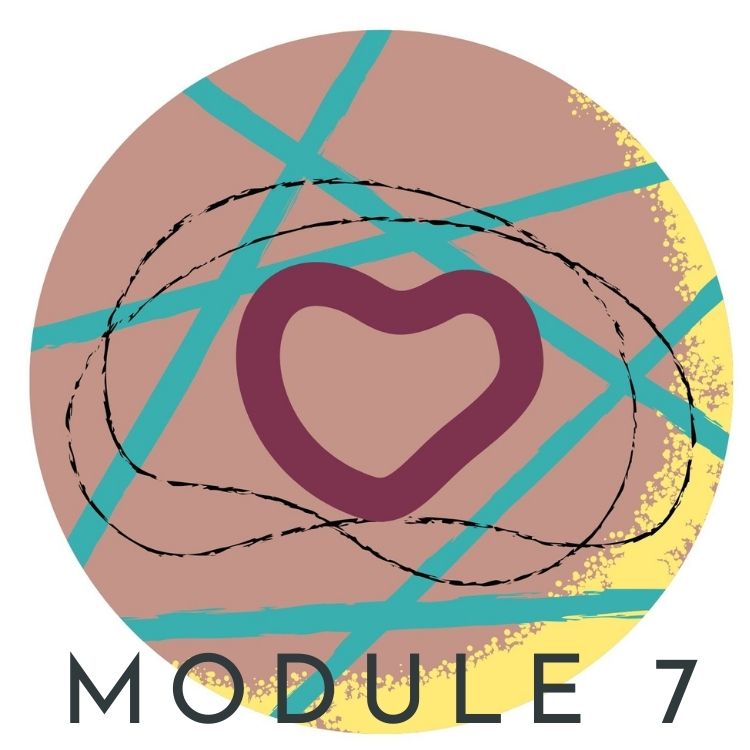 Mindfulness Based Expressive Mandalas
8 Lessons and Lesson Plan Development
History
6 Different Mandala Exercises
Expressive Arts Extensions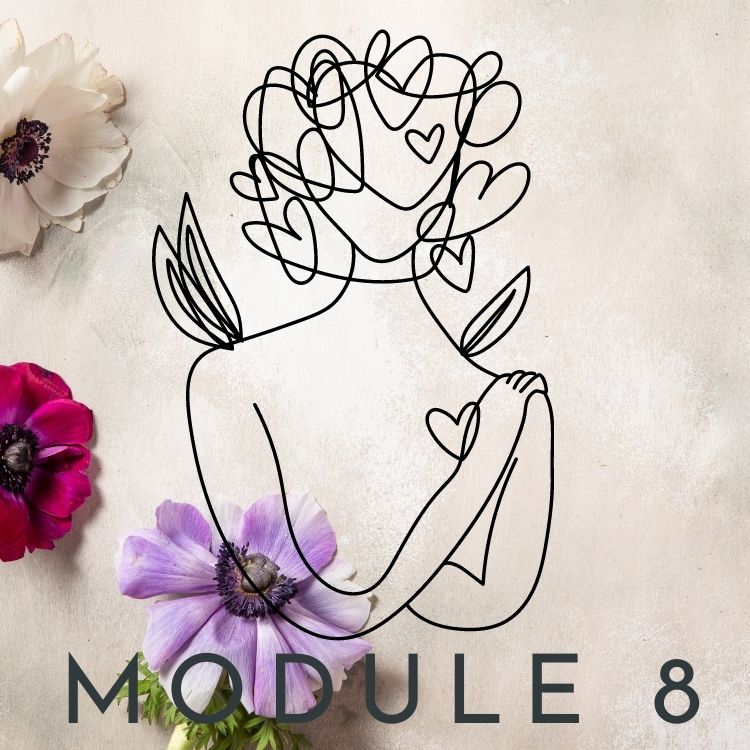 Mindful Art in Self Care
10 Lessons and Lesson Plan Development
Self Care Domains
Self Assessment and Planning
Mindful Self Compassion
Mindful Art in Self Care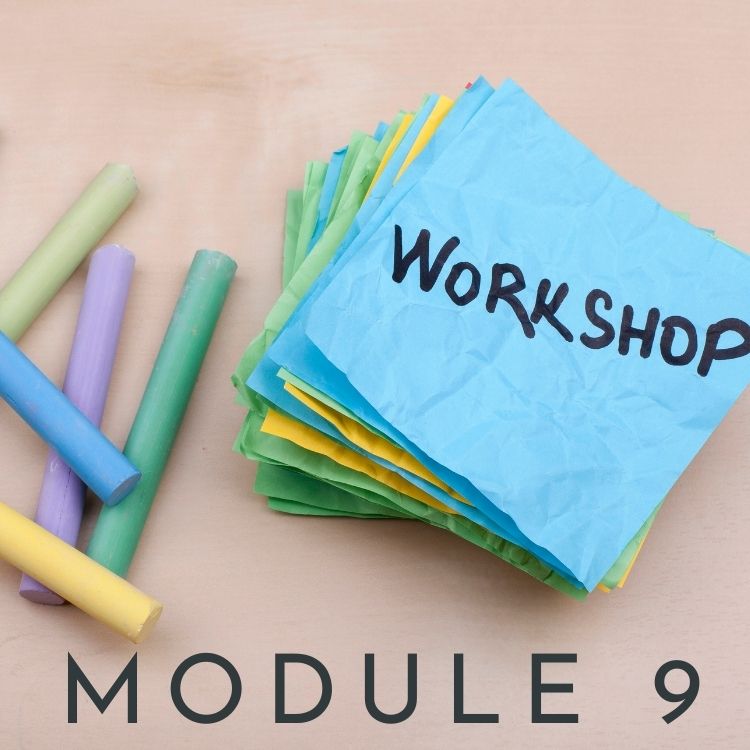 Facilitating Group Workshops
9 Lessons
Ethics
Facilitation Skill Development
Group Dynamics
Teaching Mindful Art - Curriculum
Mindful Self Compassion
Group Planning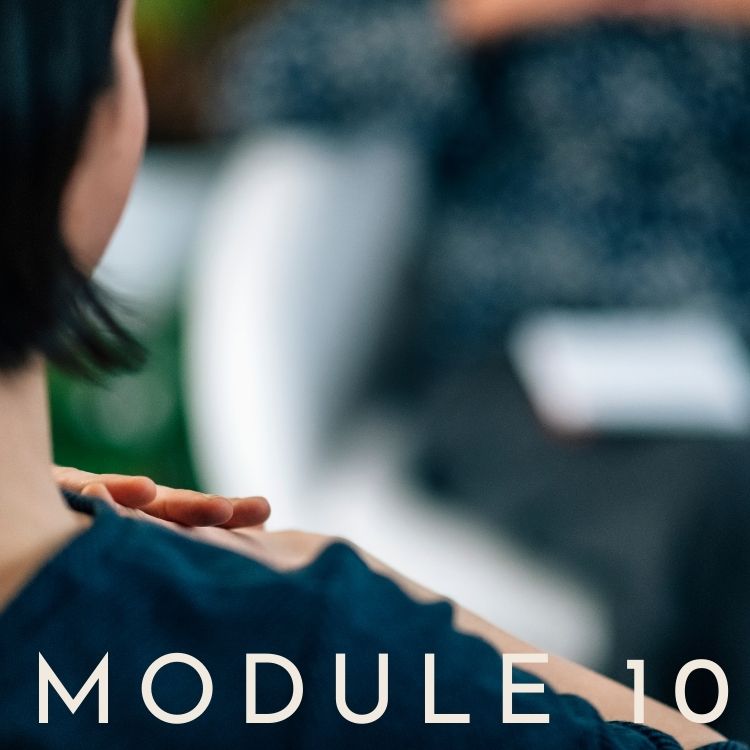 Coaching Individual Sessions

11 Lessons and Final Project

Scope of Practice
Curriculum Guide
Coaching Methods
Liabilities and Contracts
Final Project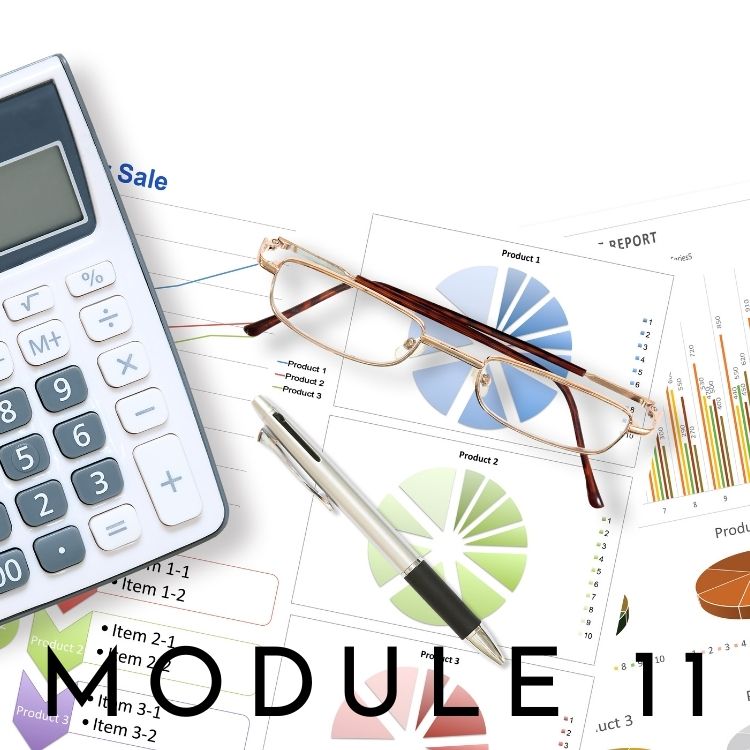 Business Basics
6 Lessons
Business Essentials
Manifesting
Business Types and Licensing
Attracting Clients
Business Plans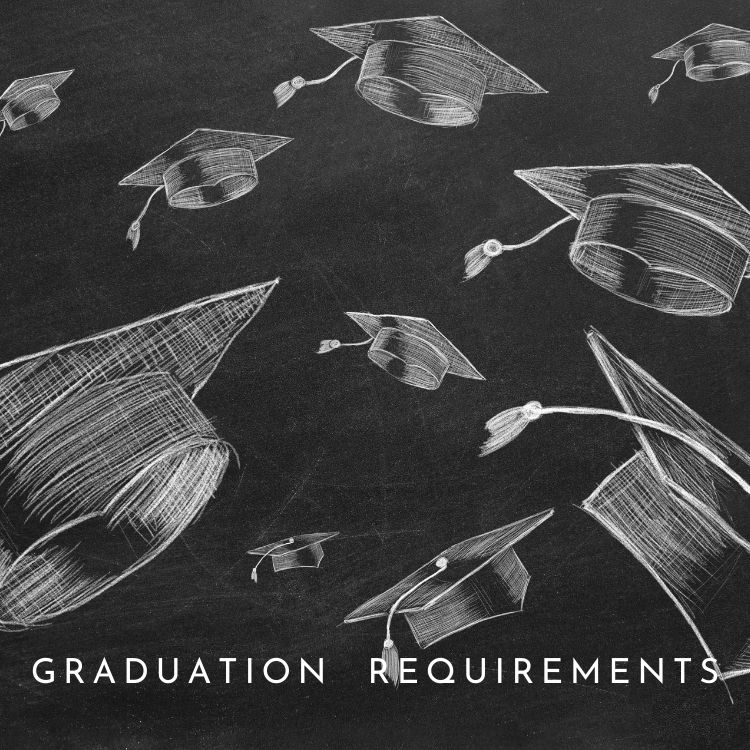 Required Components

50 Hour Minimum Practice Log
All Lesson Plans Turned In
Portfolio of Work Completed in the Course
Facilitation of Group Session with Self Evaluation
Facilitation of 1:1 Session with Self Evaluation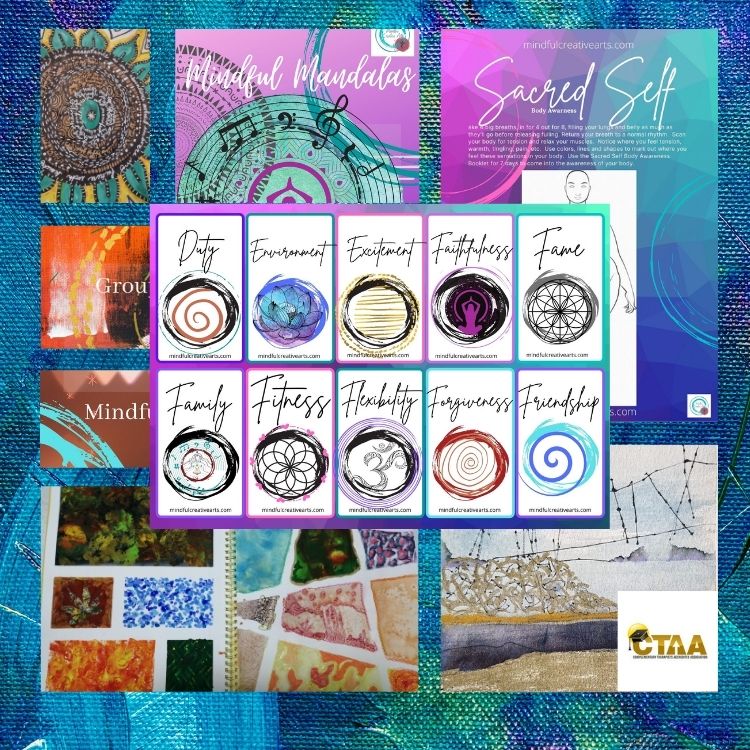 What Kinds of Materials do I Receive?
We focus on developing the 9 Attitudes of mindfulness as identified in MBSR through art focused activities that have been originally developed by Dr. Jessica Waters. Dr. Waters leads you through over 60 different activities that focus on developing mindfulness and mindful meditation practices in the MBSR tradition including:
Value Clarification Artmaking
Art Generators
Over 6 different mandala practices that are process oriented
Breath Drawing
Mindful Mark Making Explorations
Intuitive Watercolor Play
Intuitive Collage
Mindful Affirmation Art
Self Love Postcards
Vision and Self Care Cards Designed by Dr. Waters
Stress Analysis Activities
Self Care Assessments and Planning Guides
Reflective and contemplative writing
2 and 20 Writing
Automatic Writing
Blackout Writing
Reflective Poetry Journals
Sacred Self Awareness Activity Workbooks and Worksheets
Expressive Printmaking
Meditation Scripts
Meditation and Mindfulness Worksheets for your personal and professional use.
How to use the QPR Mindful and Meditative Art Process.
Smudging Instructions and practices
Mindful Art Curriculum Scope and Sequence Suggestions
Mindful Art Lessons Planning Worksheets
Mindfulness Journal
and much, much more!
Mindful Meditative Art can be self healing and while it can have therapeutic benefit it is not art therapy. This program does NOT provide the necessary academic training to become licensed as an art therapist in any country.



Your Abundant Program
Over 100 lessons in trauma informed mindful meditative art education and practice development Trauma sensitive mindfulness applications and education

More than 50 different MBSR Based, Expressive Arts Activities with extensions and facilitation tips.
17 Booklets, over 1000 pages of scripts for you to create your own guided meditations, worksheets for personal and professional use, coaching processing support, MBSR Mindfulness education materials, with resources for each module
10 Modules including specific modules in group facilitation, individual coaching and business development. With approximately 90 lessons.
Original audio guided mindfulness practices and access to various other video and audio practices

The Original Sacred Self Values Sort Game created by Dr. Waters, that includes 3 different open ended expressive art activities to do with clients
Original Downloadable worksheets
Original Downloadable Infographics to use with your sessions
Downloadable assessments, lesson plans, our original MBSR Based Expressive Art Curriculum sample, hand outs and forms for your 1:1 coaching sessions.
Training in MBSR core mindfulness practices, an overview of a variety of different meditation styles. practice logs, videos, audios and more
Expressive Art exercises in mixed media, collage, painting, drawing, and process oriented mandala making, with demonstration videos, audios and step by step tutorials.
Instruction, resources and support with group workshops and individual coaching procedures, processes and support.
Email support and available coaching with group discussion from a seasoned teacher, therapist and doctoral level practitioner
A certificate stating your graduation of the program and that you are a certified Trauma Informed, MBSR Based, Mindful and Meditative Arts Facilitator and Coach
Complimentary fee credit to apply for the CIMAF/CIMAT, CIMAP, RMACP or RMAT credential
Please note this is an extensive, 250 hour program that takes most individuals months to complete when dedicated to working on it frequently. You have no time limit for completion, but know this program takes time to complete. Some graduates have taken over a year to complete the program.



On completion of this course, you will have access to join the CTAA if you please. As a member of the CTAA you will receive these benefits:
A Professional Certificate showing that you have full membership with CTAA as a Practitioner.
Access to discounted Therapist Practitioner Insurance with your membership (subject to their Insurance Partners)
Access to their CTAA logo to place on your Website/Social Media/Email
You will also gain the benefits of the International Mindful and Meditative Art Accreditation Association which includes:
A Highly Qualified Program Graduate Designation
Credentialing Letter, Certificate and Designation that allows you to present yourself as a Highly Qualified Mindful and Meditative Art Teacher/Facilitator, Professional or a Registered Mindful and Meditative Art Certified Professional or Therapist (for those with appropriate graduate degrees).
Free credentialing and renewals for life.
Professional designation that demonstrates quality training to help you stand out from the rest.


FAQ's
Are there live components to the program? Not at this time. The program is self paces and online with continuous email and discussion group support. Coaching sessions are available for a reduced rate for 1:1 sessions. I am very active in answering and commenting on students work, providing 1:1 critiques and feedback when asked and for assisting our graduates in questions in the field afterwards. There is opportunity to provide feedback and chat in our discussion rooms in each lesson as well.
What makes your program different from the others that I'm looking at? There are several differences in the program including the level of training of the instructors, years of experience in both teaching, mindfulness practice and curriculum development, content, resources provided, feedback and more. We are also the only program currently that is accredited by three accrediting organizations. and utilizes Trauma Sensitive Mindfulness and MBSR as our base of curriculum.
Do you offer scholarships? Yes! Fill out our form here!
Do I need art experience or a background in art or mindfulness to complete this program? No. Not at all. This program teaches you how to develop your personal program as well.
Is your program trauma informed? Yes. It is more than trauma informed as it is trauma sensitive and based in trauma sensitive mindfulness and taught my myself who received Trauma Sensitive Mindfulness training from Dr. David Treleaven and am a Certified Clinical Trauma Professional with multiple credentials and training from some of the world's top experts in trauma treatment and research. I've also studied and been involved in trauma education in multiple levels since 1999.
Does your program include yoga? Our program includes movement. So that means yes, there is some yoga, there are also different forms of contemplative movement.
Does your program focus only on art? No. The program is multi-modal, meaning that we incorporate music, all visual art methods, writing and movement. All activities have extensions into these areas.
Is your content repeated from your other course or subscription offerings? Not in this program. In the other practitioner programs the Group Facilitation, 1:1 Coaching and Business Skills Modules are repeated.
Do you provide refunds? We want you to have a great, supported experience, however due to the digital nature of the program, we do not offer refunds for any reason.
Is there a timeline to complete the program? No. Not at all and you get to keep the content for as long as you want.
Can I get CEU's if I am a therapist or substance abuse counselor? At this time no. We've been looking at how to do that through NAADAC and other bodies for substance abuse counselors for awhile and there just isn't a way they would credential the entire program due to the 250 clock hours as their programs are a maximum of 40. But we are looking at developing specific single workshops for CEU's through NAADAC coming up. We are a YACEP Approved Provider from Yoga Alliance, as however we have not submitted this program for YA CEU credit at this time.
I'm an enrolled student from when the program was on Coursecraft. Is the content different from when it was there? Yes. There are significant updates to the curriculum and additional resources and art making experiences, so I recommend going through and taking a look.
I can't log in to Teachable or can't find your school on my Teachable dashboard. Access can be sent again, just email us and let us know at [email protected]
If I am a prior graduate can I still qualify for the IMMAAA credentialing? Yes. There should be no issue with that and it is free for the credentialing due to our agreement with them. You simply have to pay the renewal fee each year.

Does your program include Sound Healing Certification? No. While we use different modes of sound healing in select exercises, it is not a Sound Healing Certification program.
Do you have videos? Yes. The program utilizes both original content video and credited resources as well as live recorded workshops that Dr. Waters has led to demonstrate methods, the QPR process and how to lead mindful meditations, breathwork, grounding practices and of course, Mindful and Meditative Art Making. There is also significant content that you have to read.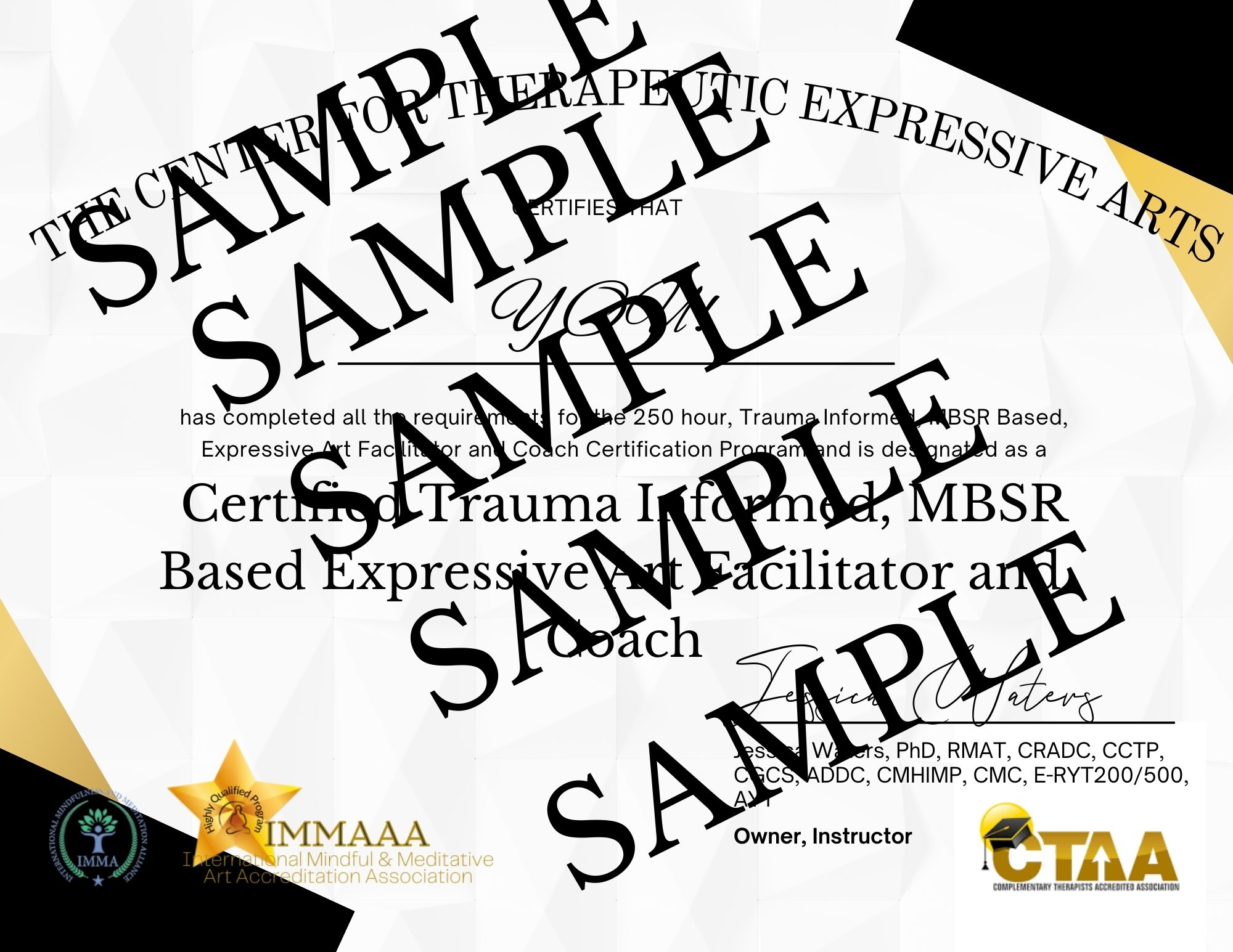 Earn your Certification from a designated Highly Qualified Program with three different accrediting body accreditations.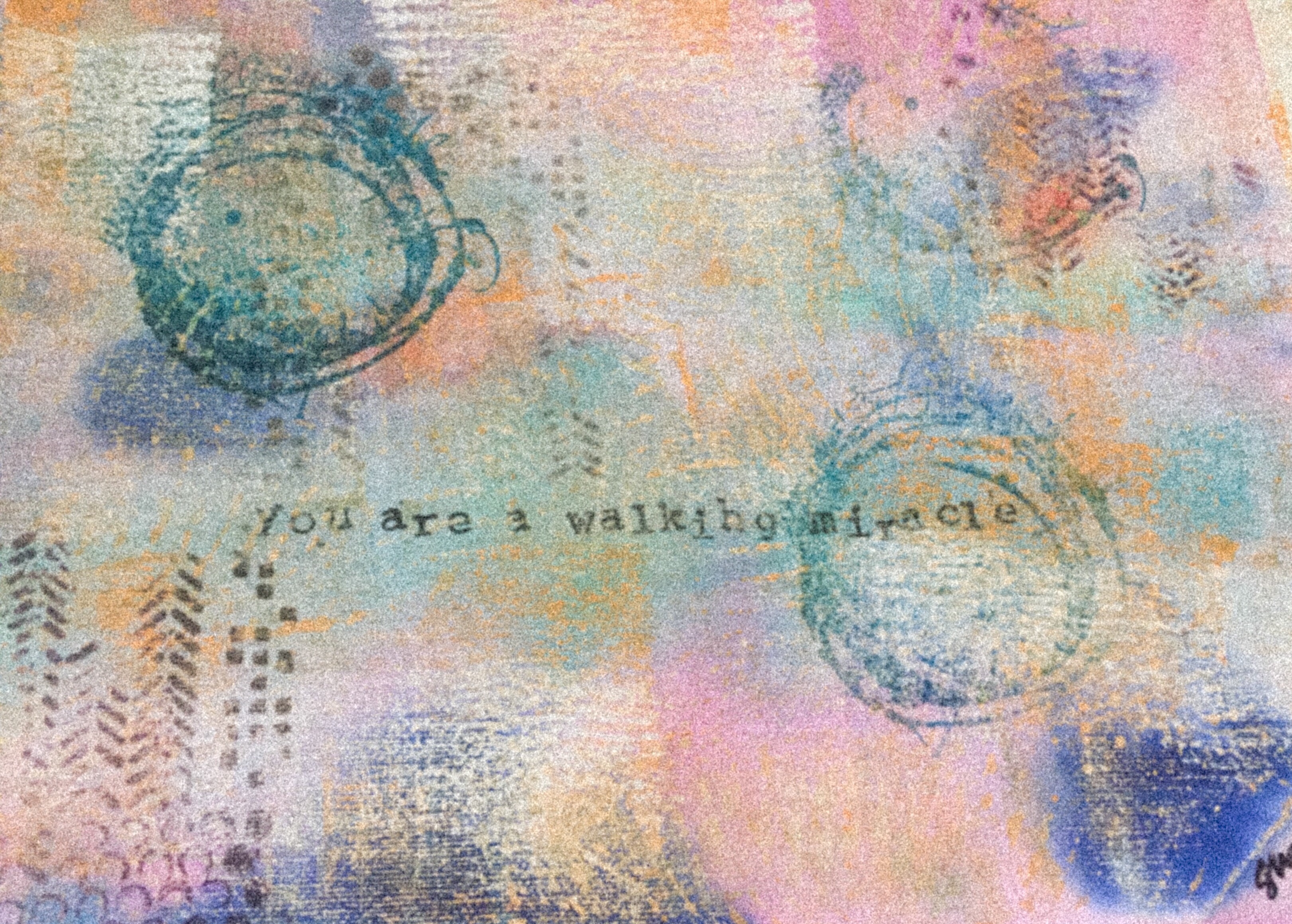 Kindred Spirit Testimonials
"Thank you for creating. I finally found a course that resonates with me. I want to use this to assist with my yoga workshop and future trauma-sensitive yoga classes."
"I have LOVED this module. I can already feel a big shift in my energy as I do these art projects."
"I've paid 2-3 times as much for trainings with not even half the content and resources you provide in this program. I love what you've done and am already using these ideas and mindfulness practices in my counseling sessions."
"Thank you so much for this program. It has changed my life and I am now pursing an art therapy degree because of the inspiration I received here."
"This program will help me reach out and serve the people in my community that struggle with abuse, poverty and trauma. This is exactly what I was looking for and what I need. I am home."
"I just love how you teach in your workshops. The energy flowing from you is amazing."
"I can't help myself from tearing when reading your email. It feels like my family member is sitting besides me and talking to me, without any judgement, stress or blaming. I felt peace, calm, care and love in between your words. I am so lucky to have you as my teacher and mentor! Thanks a million Ms. Waters for being so supportive and so caring! This is the best online course I ever take in my life."
"Jessica, you're program has changed the trajectory of my life. It has given me something that I was so deeply searching for and thought I had lost. I cannot express how this work has impacted me in the most positive way."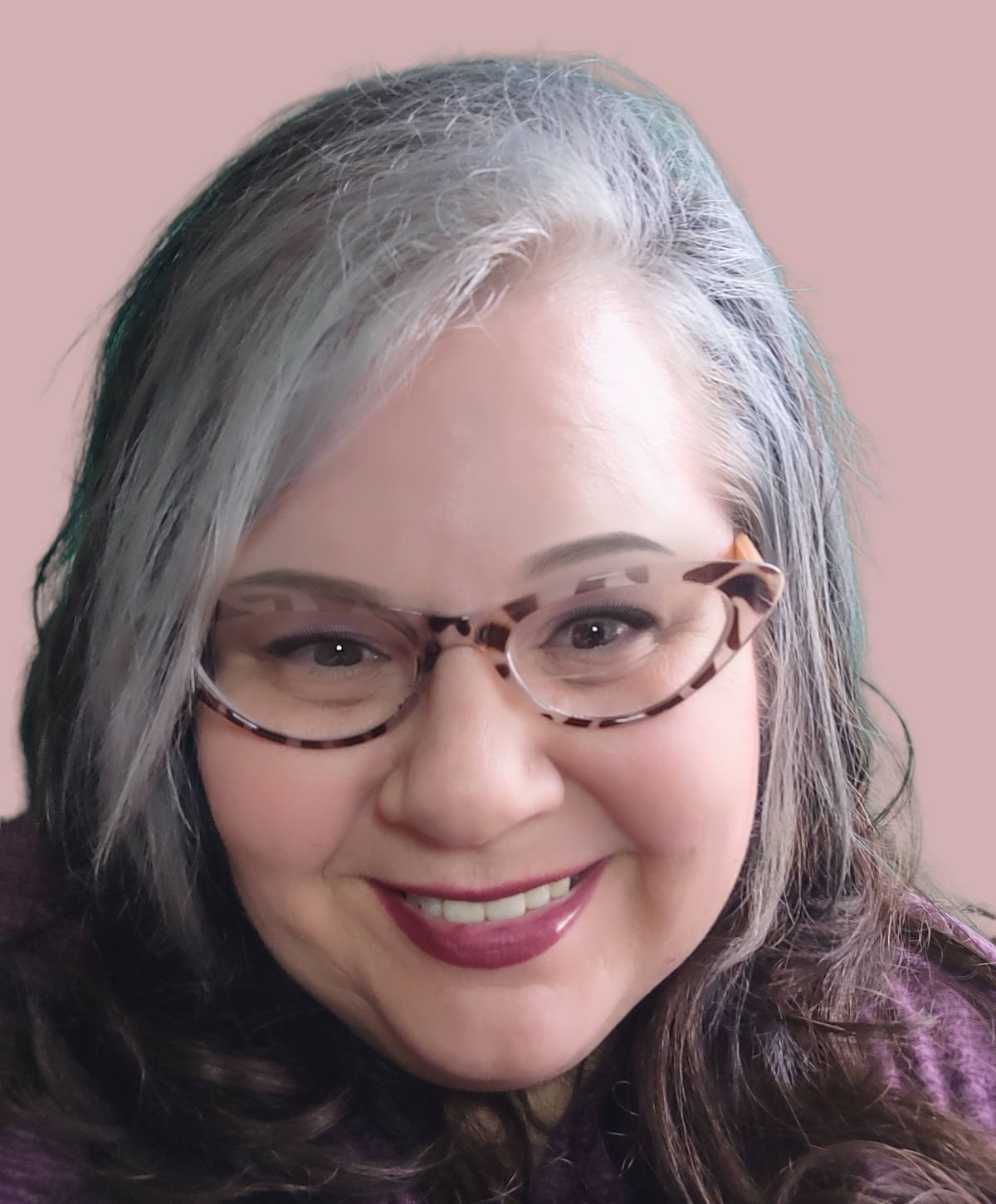 Join me, in helping make your community and the world a better, healthier place.
I'm Dr, Jessica Waters and I'll be your instructor for this and most of the courses at the institute. I've studied, experienced and utilized expressive arts therapy and spiritual practices for my own healing, in education and in therapy with others as well as educational workshops for the past 40+ years. I'm a certified mindfulness instructor with a background heavy in MBSR and MMFT as well as many other methods of insight meditation. I have studied and been a Bhakti yoga practitioner for more than 20 years combined with my indigenous roots (Anishinaabe-Ottawa/Ojibwe/European) and Shamanic/Animistic learnings and mentoring, my Quaker roots, progressive Christianity founded in mysticism, Buddhist, Sufi, Sikh and New Thought/CSL/Unity traditions. Not only am I an artist, musician, yogi, psychotherapist and teacher but I am a Curandera Espiritu as well, in the Latin American tradition. I utilize all of my talents to create unique programs that are found nowhere else with the combination of mind, body and spiritual connection and ritual for facilitating depth and meaning through the arts and personal empowerment through creative wellness. I'm offering my education, training, experiences to help each of you develop not only a path for a new, meaningful line of work but also, more importantly, for developing yourself and leading people in experiences that can help them become better humans... cuz let's face it... we need more good humans. We are all connected, like the spider web. As Chief Seattle said so many years ago, "what we do to the web, we do to ourselves". Here, we better ourselves to better the web.

Throughout my life, I have endured and healed, found solace, sanctity and my soul in music, artmaking, writing and creating. I've always been connected to spirit since I was a child. My turbulent homelife was made tolerable by creating music. As a 7th generation artist, all realists, I was intimidated to even try to make art, but I remember my aunt bringing liquid watercolors and watercolor board to our farm in the 70's and teaching us how to make bathtub art. I was fascinated. My mom bought an old piano because I wanted to learn to play, an old, upright, Wellington, saloon style piano, used from a garage sale. We had it tuned maybe 3 times my entire childhood because we couldn't afford it. My mom, a part time commercial artist, full time mom, my dad a millwright at a steel mill, we grew up salt of the earth people in the midst of cattle farms in the midwest. Life was difficult. We had to haul in our own water, were on septic tanks, and when times were tough, we used a wood stove for heat. Things that are "off grid cool" today, but necessity back then. My home life was turbulent as my life would be extending on deep into adulthood with trauma and trauma. That piano was my lifeline to sanity and soul. After living in Littleton, CO during Columbine, I completed my master's in psychology researching the impact of trauma in schools. I had taught in the elementary schools for about 4 years then, and through a series of different events, landed a position teaching music and art. What I discovered was that I didn't have to be realist to be an artist. I could explore abstraction, expressionism and later studying creative arts in transpersonal psychology discovered this thing called process art. It was amazingly freeing and it began to be my personal therapeutic modality in an informal way. Art Saves Lives. It saved mind, that's for sure. As my career as an art teacher went on I studied at major museums, the Kansas City Art Institute and eventually Goddard College in Vermont in their MFA-Interdisciplinary Arts program. I constantly battled my love for art and then what would become expressive arts therapy, with my teaching career and my own lack of confidence. To make up for that, I completed an enormous amount of education that contributed to a lot of letters I can put behind my name including Phd's in Psychology/Transpersonal Psychology and multiple credentials in counseling and therapeutic modalities, but at the heart of who I am is a healing artist. I am lucky that my connection with the Divine is so strong that it chooses to channel through me in many circumstances to reveal so many different layers of the subconscious. The past few years I've studied with Native mentors and in UMN's Curanderismo specialization and have learned how to utilize ancient ritual practices for clearing, healing and therapeutic benefit. I combine this with expressive arts therapy and therapeutic art creating a very unique path for all who participate in it. These programs aren't for everyone. They are thorough and will stretch your artistically and within yourself. It also, for so many, is provides a path for their harmonious and soul filled future while doing their own self healing so they can pay it forward and worth with helping others heal themselves too.
My path took awhile to get here... but healing does that sometimes. My experience with my own grief, trauma, addiction recovery and chronic illness have made all the difference in propelling me to bring you authentic and real solutions to adding depth and richness in your life. I invite you to join me on a journey of discovery, healing and connection.
Check your inbox to confirm your subscription
Continue or expand your journey!